Homemade tasting Spaghetti from a jar ready in 30 minutes!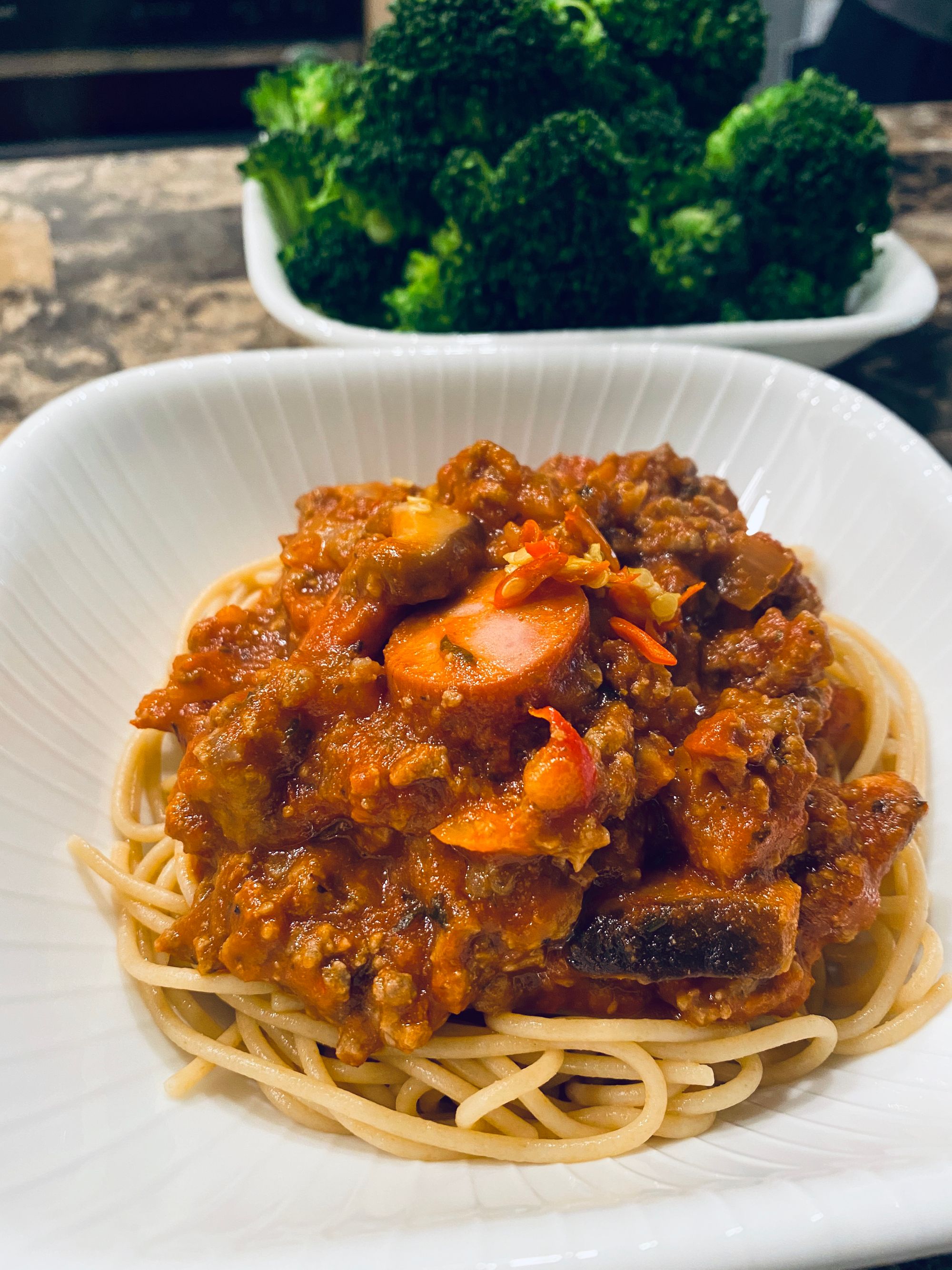 If you're looking for a way to level up your spaghetti sauce without needing to make it from scratch, this is for you. For those looking for a completely homemade from scratch recipe, check out my Homemade Spaghetti Recipe.
We usually don't order spaghetti at restaurants just because they're never as loaded as the ones you can make at home. You either get meat sauce or one meatball as your options. The amount of ingredients you can jam pack into this sauce recipe is endless. For this spaghetti sauce recipe, I've included ground beef, onions, garlic, green bell peppers, mushrooms, and hot links. Feel free to get creative and add in whatever your heart desires.
Spaghetti Sauce (From a Jar) with Ground Beef
Prep Time: 10 minutes
Cook Time: 25 minutes
Total Time: 35 minutes
Yield: 8 servings
Ingredients
-1 lb of ground beef
-1 cup onion, chopped
-3 cloves garlic, minced
-1 small green bell pepper, chopped
-1 cup of mushrooms
-3 hot links or hot dog franks, sliced into pieces
-about 48oz spaghetti sauce of your choice
-2 tsp Italian seasoning
-1 tsp red pepper chili flakes or fresh chopped chili
-1 tsp parsley flakes
-1/2 tsp salt
-1/2 tsp black pepper
Instructions
1. Combine the ground beef, onion, garlic, green bell peppers, mushrooms, and hot links/hot dog franks in a large sauce pan on medium high. Cook and stir until ground beef meat is brown. Drain the grease.

2. Add in the spaghetti sauce, Italian seasoning, red pepper, parsley flakes, salt and black pepper. Stir everything together.

3. Let the Spaghetti sauce heat up (slight bubbling) before simmering on low heat 10-15 minutes. Stir occasionally so it doesn't scorch.

4. Take this time to cook your pasta. Serve your finished sauce over cooked noodles with a salad, garlic bread, or broccoli* on the side.

Optional: We love broccoli with our spaghetti so we usually boil up broccoli for 2-3 minutes before draining. This adds a nice healthy crunch to your finished meal.