Caramelized Pork Spare Ribs is a favorite in our household. If we're not having braised pork belly with eggs (Thit Kho Trung) than we're definitely having this dish. It is fairly easy to make, but make sure you have plenty of time to simmer the pork so it'll be nice and tender. I'm usually making canh (soup) or another dish while I give the sauce time to evaporate and thicken.
The Caramelized Pork Spare Ribs will be covered with a sweet glaze that pairs perfectly with a bowl of rice. If you tend to prefer things less sweet, you can always cut back on some of the sugar.
Caramelizing Sugar
If you're someone that makes desserts often, then this isn't anything new. However, for those that aren't familiar with this process, it might seem intimidating. Basically, you're melting granulated sugar directly onto your pot/pan until it becomes an amber liquid. This is a fairly quick process so you don't want to walk away from your sugar during this step. Keep your heat on medium high and gently stir the sugar with a silicone/wood spatula. You'll notice the sugar slowly melting and if there are rock chunks they'll eventually melt from the heat.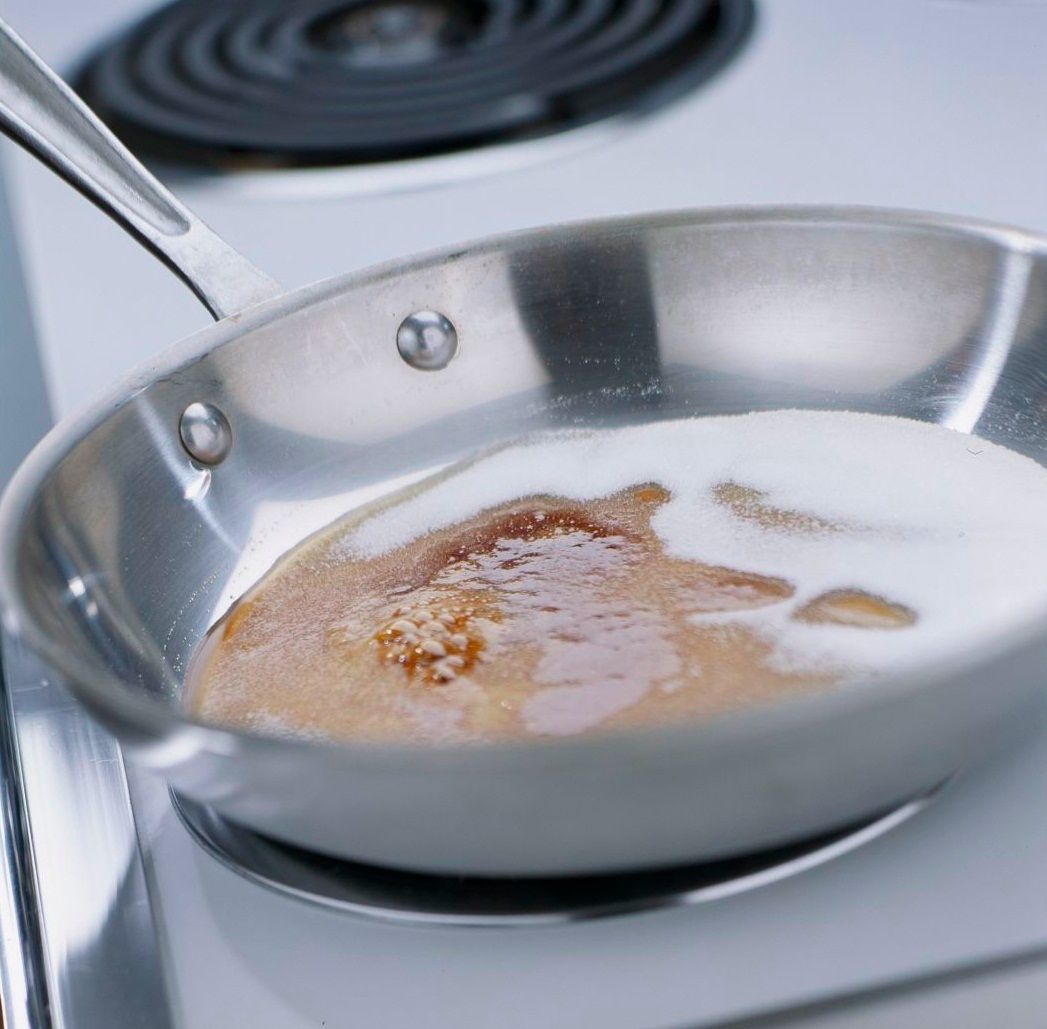 Vietnamese Caramelized Pork Spare Ribs Recipe (Sườn Ram Mặn)
Prep and Marinate Time: 25 minutes
Cook Time: 60 minutes
Total Time: 85 minutes
Yield: 5 portions
Ingredients
-2 pounds of pork spare ribs
-1 tsp salt
-1 shallot, minced
-4 cloves garlic, minced
-1 chicken bouillon cube or 1 tbs chicken bouillon powder
-2 tbs fish sauce
-1/2 tsp black pepper
-3 tbs granulated sugar (reserve 2 tbs for caramelizing step)
-1 cup coconut soda (Coco Rico) or water
-1 green onion, sliced thinly
Instructions
Clean the pork spare ribs. Fill a pot with just enough water to cover the pork spare ribs and add the salt. Bring the water to a boil before adding the pork and let boil for 2-3 minutes. Drain the ribs in a colander under cold water to rinse all the impurities.
Mix the shallot, garlic, chicken powder, fish sauce, black pepper, and 1 tbs of the sugar. Marinate the pork spare ribs for at least 20 minutes.
Add the remaining 2 tbs of sugar into a medium sized pot over medium high heat. Be careful not to let the sugar burn, gently stir with a silicone/wood spatula. As the sugar melts, it'll turn liquid with a nice caramel color.
Pour in your marinated pork spare ribs plus the excess marinade into the pot and coat the ribs with the caramelized sugar.
Add the coconut soda or water and bring the pot to a boil.
Cover the pot with a lid (leave it a bit open) and reduce the heat to low to simmer for 30 minutes. Stir the ribs once in a while to ensure even cooking.
Now remove the lid completely and continue to simmer on low for another 20 minutes to allow the liquid to evaporate. The finished product will have a nice thick glaze. Top off your dish with the green onions before serving.